Disney World Christmas Day Hours 2014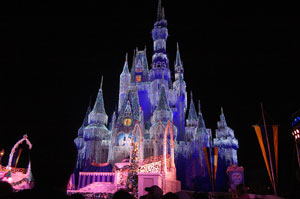 Wouldn't it be nice to know all of the hours available at the different Disney Theme Parks during Christmas 2014. We have put together this list to make it easier to find that exact information in one location. Important: Keep in mind that any of the Extra Magic Hours shown, are only available to Guests of the Disney World Resorts. Let's take a look at all of the Disney Theme parks to see how you can best spend your Christmas Vacation on December 25, 2014.
As you can see in this list, the Magic Kingdom and Epcot both offer Extra Magic Hours for Christmas Day 2014. This might help you plan your trip better, knowing the times that the parks are open and available.
Magic Kingdom Hours at Christmas
Regular Hours
8 AM to 1 AM
Extra Magic Hours
7 AM to 8 AM
* Park hours are subject to change without notice
Regular Hours
8 AM to 9:30 PM
Extra Magic Hours
9:30 PM to 11:30 PM
* Park hours are subject to change without notice
Hollywood Studios Hours at Christmas
Regular Hours
8 AM to 10 PM
Extra Magic Hours
None Listed
* Park hours are subject to change without notice
Animal Kingdom Hours at Christmas
Regular Hours
8 AM to 8 PM
Extra Magic Hours
None Listed
* Park hours are subject to change without notice