Epcot Center Hours
Future World Regular Hours
9 AM to 7 PM
World Showcase Hours
11 AM to 9 PM
* Park hours are subject to change without notice


[Epcot Address]

Epcot Information
300 Acres

11 Countries

Fireworks Display

Mission Space
Test Track

Soarin'

Kidcot Fun Stops

Art & History Gallery
Food & Wine Festivals

Cultural Shows

Large Aquarium

VIP Tours
Are you one that looks at Epcot as a place to visit because you feel that you have to at least say you were there since you spent all of your money to see the 4 Disney Theme parks? If that is how you look at the Epcot Center Orlando Fl, you are not alone but I have to say, Epcot has changed over the years and even though this park might not be what the younger kids think they are interested in, they may be surprised by how much they enjoy learning about all of the different cultures into this amazing park. As you continue to learn about Epcot, you might start to get excited about all it has to offer, so now you have to sell it to your kids. You might not want to present this park as something you have to go see but look at it as a way to expand your knowledge on places you may never get to visit around the world. There are also a number of fun things for the family to enjoy while at the park so get ready for a world of wonder when you visit Epcot in Orlando Florida.
Attractions at Epcot in Orlando
When you think of Epcot, it is hard to not envision the iconic, large golf ball-like structure that is so prevalent when you first enter. Spaceship Earth is not the most exciting ride in the park but it truly is a marvel to look at and on a very hot day, it is a great place to get out of the heat for a nice little ride through the sphere. After completing your ride through Spaceship Earth you are probably starting to think about the other main attractions in the park. Mission: Space® and Test Track® were added as thrill rides to encourage visitors to give Epcot a try. The amazing thing is that when you do visit the park, for this reason, it is hard to leave without noticing all of the other beautiful attractions and locations this park has to offer. For the kids, they will love Turtle Talk with Crush the gnarly, surfer beach-type turtle from the movie Finding Nemo. Enter a world that is completely interactive where Crush will talk directly to different kids in the room. To see their faces light up when they are being singled out in a crowd is quite something to see. Climb aboard one of the newest rides, Soarin'®, where you are strapped in and enjoy an adventure flying above California. The sights are spectacular and the scenery is breathtaking. You will want to ride this one more than once because there is more going on than you can possibly take in on the first try. There is so much more and we will continue to expand on the entire experience so you have everything you need in one place.
11 Fascinating World Adventures
It might not sound very exciting to some but think about it, how many times you have sat back and wondered how other parts of the world live. Epcot brings the world to you and shows you the sights, sounds and cultures from all over the globe in one location. The World Showcase at Epcot is an adventure in itself and each location is uniquely detailed to sink you into the culture of each country on exhibit. If you are looking for a great place to dine, you are able to get your own authentic cuisine from many of the lands displayed here. Take the trip around the entire circle and take it all in. Where else can you see so many cultures in one place eager to show you their differences and similarities?
Epcot Countries of the World
American Adventure
Canada
China
France

Germany
Italy
Japan
Mexico

Morocco
Norway
United Kingdom

Where to see Disney Characters at Epcot?
For the kids, this is one to definitely mention. If there is one thing, above all else, that kids get excited about when they come to Disney World, it is having the chance to meet their favorite Disney Characters in real life. You will have this opportunity at all 4 of the remarkable sites but Epcot can be one of the best places to live out this adventure. What a great way to get kids involved in all of the different lands of the World Showcase than to bring in Disney Characters that look as if they are in the elements you are used to seeing them in their movies. Here are just a few that you will see through the park.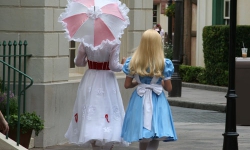 Mulan in China
Princess Aurora in France
Snow White in Germany
Mary Poppins in United Kingdom
Donald Duck in Mexico
Belle in France
Aladdin and Jasmine in Morocco
Many More at the Epcot Character Spot

Epcot Tours Orlando
Trying to get in all that Epcot has to offer is a chore in itself but if you are looking for something special to do on your trip, and you don't mind spending more money, you can always look at the additional Epcot Tours Orlando that are offered. If you are an actor or just can't get enough of that Disney Magic, the Backstage Magic Tour at Epcot Orlando is going to be a perfect adventure for you. This tour is designed for adults and will take an entire day to get through. Visit and explore all 4 Disney Parks and a lot more and view them from a vantage point that few get to see. If diving into a big aquarium is more your style, take an aquatic adventure with the Epcot Seas Aqua Tour at Epcot in Orlando where you will snorkel in the huge 5.7 million gallon saltwater aquarium where you will get to see all 6,000 sea creatures in all of their color and beauty. If you are a licensed diver, then the Epcot DiveQuest might be more to your liking.
Transportation to Epcot
Disney offers transportation from most of their Hotels and Resorts in the area. If you are planning to spend the entire day, this is a great way to get around. If you are only expecting to stay for part of the day, it might be beneficial to drive. There are additional fees for parking so you will want to figure this into your daily budget.