Magic Kingdom Orlando Hours
Regular Hours
9 AM to 10 PM
Extra Magic Hours
8 AM to 9 AM
* Park hours are subject to change without notice

[Magic Kingdom Address]

Disney Magic Kingdom Information
135 Acres

6 Themed Areas

Main Street Parade

Cinderella Castle
Big Thunder Mountain Railroad

Splash Mountain

Haunted Mansion

It's a Small World
Tomorrowland Speedway

Monsters Inc Laugh Floor

Jungle Cruise

VIP Tours
Do you have young children? If so, the first place you will want to visit is Magic Kingdom Orlando Fl. When this park opened it was the beginning of Walt Disney World in Orlando Florida back in 1971 and laid the groundwork and vision for what this magical place has become today. The original vision of this park was to expand on the already popular Disneyland in California but bigger and better. There are 6 major themed areas at the Orlando Magic Kingdom Theme Park, Main Street U.S.A. Adventureland, Fantasyland, Frontierland, Liberty Square and Tomorrowland. All of these original areas were developed based on the Disneyland Theme Park except for Liberty Square. Liberty Square was a new section exclusive to Disney World when Magic Kingdom opened its doors. As you enter the park and walk down Main Street U.S.A., it is very fascinating to pay attention to the detail of the architecture in all of the surrounding buildings. In the distance in front of you, is the largest well known structure in all of the parks, Cinderella Castle. The kids will be pulling hard when they see this because to them, this is where all of the magic comes true. If you bypass everything to get to the Castle in a hurry, make sure you come back to look at everything you missed as you were running through. You will not want to miss anything while you are here. In front of Cinderellas Castle is a central hub that has spokes going in all directions to get you to the different sections of the park. If you break up into groups, this is a great meet-up place.
Attractions at Magic Kingdom in Orlando
It will make you feel like a kid again as soon as you enter the front gates and see all of the magic and wonder at the Magic Kingdom Theme Park. If you have older kids, they might not be as excited about this park but after walking around for a while, you will start to catch glimpses of the child in them as well, if you just take some time to look for it. It is really hard to hide the child in all of us because of how well things are put together and presented. Sure, there are rides that are perfect for the little ones, like The Magic Carpets of Aladdin, the Prince Charming Carrousel and It's a Small World but there are also adventures that the entire family will enjoy as well. Take the Big Thunder Mountain Railroad or Splash Mountain for instance. No, they might not be the biggest of the Thrill rids but they are fun and iconic. You have to take in the full experience and enjoy all of the detail that Disney has put into the magnificent park.
Magic Kingdom List of Rides and Attractions
Characters at Magic Kingdom
Since Magic Kingdom is the first place that kids think about when they know they will be visiting Disney World, Disney knows this and makes sure the experience they receive is top-notch. This is the premier location to meet all of your favorite Disney Characters. Some will be walking around the park and others will have specific locations and times for a "Meet and Greet". We try to give a complete list of where you will find the character you are looking for but this list can change from time to time. When you enter the park, verify the locations with Guest Services before you proceed to the locations listed.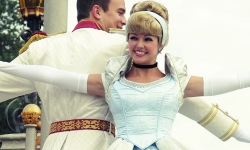 Mickey Mouse at the Town Square Theater
Pluto and Snow White around Town Sqare
Aurora at the Town Square Gardens
Winnie the Pooh and Friends at the Crystal Palace
Disney Princesses – Aurora, Cinderella, Jasmine, Mulan, Rapunzel and Snow White can be seen at the Princess Fairytale Hall
Merida at the Fairytale Garden
Ariel at Ariels Grotto
Many, Many More around location of Magic Kingdom

Best Shows at Magic Kingdom
Don't think for a minute that all of the Shows at Magic Kingdom are created for just the little ones to enjoy, oh no, they are created in just a way that all ages will enjoy them. If you are looking for a good laugh, the newer Monster's Inc Laugh Floor is a perfect place to start. This show is very interactive, with the characters pointing out audience participants throughout and making them part of the entertainment value. This is a great show for all ages and most people agree that this is the best show in the park. If you are looking to get your young ones all excited and ready to tackle everything in the park, arrive a little early and enjoy the 15-minute pre-show that has a number of Disney Characters participating. The kids will get a kick out of this and it is truly the best way to start your adventure at Magic Kingdom.
Transportation to Orlando Hollywood Studios
Disney offers transportation from most of their Hotels and Resorts in the area. If you are planning to spend the entire day, this is a great way to get around. If you are only expecting to stay for part of the day, it might be beneficial to drive. There are additional fees for parking so you will want to figure this into your daily budget.