Disney World Magic Kingdom Roller Coaster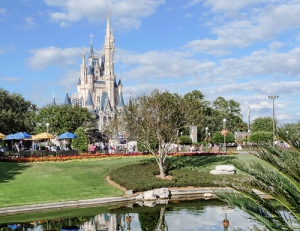 How Fast is it?
At this time, the Fastest is the Big Thunder Mountain Railroad at a full 35 miles per hour. Since the full results are not out yet on the Mine Train it could not be figured in at this time.
Which is the Highest?
Space Mountain is close at 98 feet in height but is gets edged out by the higher Big Thunder Roller Coaster at a full 104 feet. None of these compare to the tallest in all of the parks but we are just looking at the rides in Magic Kingdom.
How Long?
Until we know more about the Dwarf Train, it looks like the Space Mountain coaster wins with 3,186 feet of track causing this ride to take just over 2:30 minutes to complete from take off to landing.
Designed with the Family in Mind
As you can see from the size and proportion of the Magic Kingdom Roller Coasters, none of them are really designed to be a huge thrill for the adults. Sure, the parents are going to be delighted to watch or even ride with their children on these iconic rides but if you have older ones, don't really expect them to be jumping for joy on all of these. Don't get me wrong, all of the places you visit will be a memory made and set in the deep recesses of your mind and all that are members of your family. It is just that the "adventure" rides are maybe more adventurous for the younger than the older.
Comparison of Roller Coasters Magic Kingdom Orlando Florida
Big Thunder Mtn
Speed: 35 mph
Height: 104 feet
Longest Drop: 30 feet
Length: 2780 feet
Time: 3:23
Height Requirement: 40 in
Number of Rows: 15
Seating per Row: 2
7 Dwarfs Mine Train
Speed: – mph
Height: – feet
Longest Drop: – feet
Length: – feet
Time: 2:42
Height Requirement: 38 in
Number of Rows: 10
Seating per Row: 2
Space Mountain
Speed: 27 mph
Height: 92 feet
Longest Drop: 26 feet
Length: 3186 feet
Time: 2:35
Height Requirement: 44 in
Number of Rows: 6
Seating per Row: 1
The Barnstormer
Speed: 25 mph
Height: 30 feet
Longest Drop: – feet
Length: 679 feet
Time: 1:03
Height Requirement: 35 in
Number of Rows: 8
Seating per Row: 2
Big Thunder Mountain
Each of the coasters are presented in Disney fashion and they are supposed to get the creative juices flowing in all of the kids that visit. Take the Big Thunder Mountain Railroad, as you start to journey up to the entrance, the entire area is laid out as if you were in a true old west mining town. It might not be completely authentic but it does meet all of the stereotypes that we would see if watching westerns on the tube. The ride itself is made to resemble a real train and the open air seating behind the engine makes for a ride to thrill all ages. This steel monster is pretty smooth and only gets up to 35 miles per hour. There are many twist, turns and small drops but it does not have any sections that get you upside down.
Seven Dwarfs Train
First Opening in May of 2014, the 7 Dwarf Mining Train is sure to make a big hit. If you have seen the animatronics Disney has used in the past with rides like, It's a small World and Pirates of the Caribbean, there is no comparison to what they have now incorporated. It is quite fascinating to go through this ride and not see the transformation of characters as old style Animatronics are breathed new life by the unbelievable use of technology. But that is just what you see, what about how you feel as you ride around on this steel journey? As you enter the train, it appears like you are traveling into the mines in real mining carts just as you see in the movie. This is a perfect coaster to get the move on to as a second coaster after riding Barnstormer just because of the fun and size. It allows riders to be as small as 38 inches. there are a couple of small drops that will surely put the stomach in the throat of small riders but it is very tame and worth the wait.
Space Mountain
Okay, so it has been around for awhile, actually it was put in service back in 1975 but it really has some features that still hold up today. I think that is why Disney has kept this ride for so long. Where else can you walk through the lines and see a ride destined for the future and even though it looks a little dated at points, the kids still see it as a futuristic coaster experience. As you get into the cars, it has a feel like none of the other attractions. Normally you get to sit beside at least one family member or friend but not here. You are set in a single line, one seat behind another with no one to hold your hand beside you. In fact, each of the trains is only capable of holding 6 riders at a time, 3 in the front car and 3 in the back. This might make the smallest children feel a little uneasy so you will have to use your judgement on this. Be aware that this ride never leaves the building meaning that it never sees the light of day. This adds to the ambiance and appeal especially when you go through the portals of flashing lights to make it feel as if you are going faster than you are and also leaving our solar system.
The Barnstormer
We have been on a couple of Trains, now on the the Planes. I wonder if we will see any automobiles? Not as a coaster we won't, the closest to this would have to be the FastTrack Ride at Epcot. This Goofy themed ride, located in the Storybook Circus area in Fantasyland, is perfect to get the youngest in the group broken in and riding their first steel, speeding ride. It is a short ride at only about a minute from start to finish. The kids seem to love riding this one because it has slight drops and nothing that is very scary along the way. After they have been on this a few times, as long as they are tall enough, you can tell them they have graduated with honors and are ready to take on the next ride. They should feel a great sense of accomplishment and you will be glad they are ready to ride something else.