[Hollywood Studios Address]

Hollywood Studios Center Hours
Regular Hours
9 AM to 8 PM
Extra Magic Hours
8 AM to 9 AM
* Park hours are subject to change without notice
Orlando Hollywood Ticket Prices
Adult Single Day Admission
$90.00
Child Single Day Admission
$84.00
* Prices are subject to change without notice
Disney Hollywood Studios Information
135 Acres

6 Themed Areas

Colorful Lively Parade

Fantasmic Show
Tower of Terror

Rock 'n' Roller Coaster

Star Tours

Live Shows
Legend of Jack Sparrow

Beauty and the Beast Show

Large Amphitheater

VIP Tours
When you visit the Orlando Hollywood Studios in Florida the first thing you notice from the entrance is that it looks as if you are walking into a Movie Studio lot from back in the 1930s or 1940s. The styling will definitely make you feel as if you have gone back in time. When the park was first built, it was originally called the Disney-MGM Studios but in 2008, the name was changed to Disney Hollywood Studios to bring in a new era of movie-making styles and designs. I am kind of surprised that at the time of the name change, they did not put a different spin on the sections of the park that take you back to the golden age of film making but honestly, it is pretty cool that they didn't. This way, you get the best of all worlds in one park. The Hollywood Studios in Orlando brings in a lot of visitors each and every day and is one of the most loved theme parks in the Disney World arena. This being said, take some time to map your day when you visit so you have a better chance of fitting in everything you would like to do. The park is broken up into 6 main themed areas but everywhere you go, it looks like you are walking through a live movie set. The fake building fronts and the main street lined with giant Palm Trees can make you feel like a movie star, if only for a short time.
Attractions at Hollywood Studios in Orlando
There are a number of great rides and attractions at the Studios Theme Park. Everyone will start to get very excited while driving in because it is near impossible to miss one of the main iconic rides that were purposefully set in a position to be seen from the drive-in. Scary and full of screams, The Twilight Zone Tower of Terror is a striking structure that makes you nervous as you enter and fills the entire ride with anticipation and thrills. If you have little ones that are not ready for this ride yet, you can always split up and take them to the Beauty and the Beast Show right next door. The Rock 'n' Roller Coaster starring Aerosmith is right around the corner. This thrilling launch coaster is full of twists, turns, and inversions while keeping the ride in an enclosed structure. Other than the lighted neon signs along the way, it is pretty dark so it is difficult, if not impossible, to see what is coming up next. If you are a coaster enthusiast, this might be the best ride in the park for you. There are a total of 6 themed areas with different types of rides in each theme.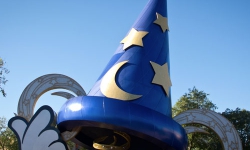 Street Entertainment
Mickey's Sorcerer's Hat
The Chinese Theater
The Great Movie Ride
Hollywood Brown Derby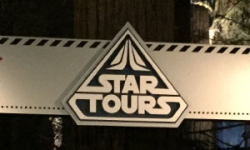 Street Entertainment
Mickey's Sorcerer's Hat
The Chinese Theater
The Great Movie Ride
Hollywood Brown Derby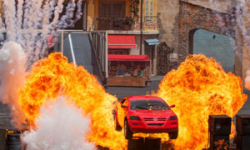 San Francisco & New York
Studio Backlot Tour
Jim Henson's Muppets
Lights, Motors, Action!
Honey, I shrunk the Kids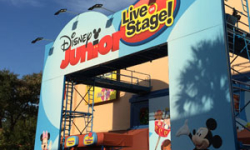 Magic of Disney Animation
Walt Disney: One Mans Dream
Legend of Captain Jack Sparrow
Disney Junior Live Show
Voyage of the Little Mermaid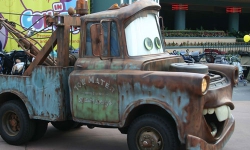 Design like Pixar Studios
Toy Story Midway Mania!
Carnival Type Games
Pixar Characters
6 Foot Desk Lamp Mascot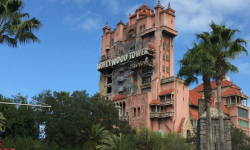 Tower of Terror
Rock 'n' Roller Coaster
Beauty & the Beast Show
Hollywood Hills Amphitheater
Fantasmic

"Citizens of Hollywood"?
Characters that you will see wandering the streets at Hollywood Studios Orlando are called "Citizens of Hollywood". Most of these "Citizens" will be found on the main streets of Sunset Boulevard and Hollywood Boulevard. They are usually out looking for talent so don't be surprised if you become part of their street show. Keep a sharp eye out because you will probably run across some Disney or Pixar characters while you walk around the park as well.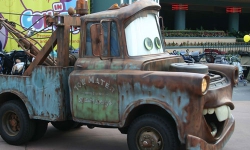 Buzz Lightyear & Woody at Pixar Place
Disney Friends at Sorcerer's Hat
Mike & Sulley at Studio Backlot Tour
Phineas and Ferb at Streets of America
Ralph & Vanellope at Magic of Disney
Cars near Streets of America
Disney Junior Stars at Animation Courtyard
Many More at the Magic of Disney Animation

Shows you will want to see
Are you an aspiring singer? Do you feel that you have what it takes to be the next great thing to hit the airwaves? If so, you might want to check out The American Idol Experience. As long as you are over 14 years of age, you could have the chance of being on stage performing in front of hundreds of people. You never know who might be watching. What do you have to lose? If you are more of an action junkie, head on over to the Indiana Jones Epic Stunt Spectacular where you will watch your favorite characters deal with many different scary events and perform multiple stunts that will surely have you on the edge of your seat. Enjoy all of the shows because they are first-class all of the way. It is a great entertainment spectacle for everyone to see and be a part of. Do you like large explosions, fast cars and stunts that make you scream? Head on over to the Lights, Motors, Action!® Extreme Stunt Show where professional stunt drivers do things with cars in a small arena that you would not think could be done. It is a joy and excitement that you have to see to believe.
Transportation to Orlando Hollywood Studios
Disney offers transportation from most of their Hotels and Resorts in the area. If you are planning to spend the entire day, this is a great way to get around. If you are only expecting to stay for part of the day, it might be beneficial to drive. There are additional fees for parking so you will want to figure this into your daily budget.