Busch Gardens Tampa Hours
Regular Hours
10 AM to 7 PM
Off Season Hours
10 AM to 5 or 6 PM
* Park hours are subject to change without notice

[Legoland Address]

Legoland Florida Information
145 Acres

Cypress Gardens

Water Park

Many Lego Structures
Wooden Roller Coaster

Steel Roller Coasters

Lego Factory

Royal Joust Ride
Tree and Rope Climb

Pirate Water Show

Designed for ages 3 – 12

Ford Driving School
So many kids, and even adults, love the thought of building amazing things with Lego's. The Lego franchise has been expanding by leaps and bound over the years transforming itself from a simple child's building toy to a showcase of products. They have moved into the Video Gaming arena with ease and they have even made movies complete with Lego characters. It just makes sense that they would give the World a place to visit to see everything that is Lego in a full size area that they can walk around in and enjoy. Many people really enjoy the LEGOLAND® theme park because it is not overwhelming, it is designed for a specific age group (ages 3 – 12) and there are plenty of things to do for the entire day. Add in many different types of rides and shows along with many different buildings and places built from Lego bricks and you will come out wanting to start building some of your very own.
LEGOLAND®Thrill Rides
You might not expect to see many thrill rides at a park designed specifically for kids up to age 12 but I would venture to say that most of the kids coming into this park will find some of these rides very thrilling. Even the adults will find that going on some of these ride, although not massive in size, are still a whole lot of fun. This is a great place to bring the kids to get their "feet wet" with many different rides and attractions. If you ride these all day long, it might make it much easier to get them on the larger rides when you visit the bigger parks in the area. As you walk through the park, hang a right and head over to LEGO Kingdoms. It is here that you will find The Dragons Roller Coaster lurking high above the main castle and you will have to enter the castle to start your adventure. Hop about this colorful, green Steel Roller Coaster and enjoy a smooth ride along the tracks as you make your way through the castle seeing knights and other dragons along the way. This is just the beginning, walk on over the Land of Adventure and take a ride on the exciting Wooden Coaster Coastersaurous. If that is still not enough to fill the need for Thrills, in Lego City kids have the opportunity to ride a coaster where you hang from the tracks. This may be a very different experience for those who have not been on coasters before. What a great feeling when you get on Flying School and have your legs dangling with nothing below you but the ground. This steel coaster is a lot of fun and is one that your child will want to ride over and over. I would have to say that the scariest ride in the park has to be Project X. I don't know if the kids get as scared on this ride as I do but there is something about being in a small train with 4 people and zipping back and forth on switchback track that just gives me the willies. I feel like I am going to fall off the track at every turn. Okay, I know that is how the ride is designed and it is a ride that I will go on time and again but I would rate this one as the scariest ride in the LEGOLAND® Florida Theme Park.
LEGOLAND® Live Show
There are only a couple of shows at LEGOLAND® Florida but they are fun to break up the rides of the day. Remember that this park is designed for smaller kids so the Shows are really designed to entertain this younger crowd as well. The Big Test Show is about new recruits to a Volunteer Fire Department learning the in and outs about fire safety. It really is good for the really young kids but I think that the older kids are going to get bored with this one pretty quick. You will feel more like you are in a Barney episode (without the purple dinosaur of course) learning about safety issues. If you have small kids though, they are probably going to be very entertained by this show. A better show for the entire family would have to be The Battle for Brickbeard's Bounty. This show is built around a Pirate adventure and many different stunts and tricks on Lake Eloise. It if really fun to watch the performers on the water. The kids will look on in amazement and the adults will have a good time as well. There are also a couple of 4D shows that you will want to catch while you are in the park.
Meet and Greet Characters
You probably wouldn't think of LEGOLAND® as a place for your kids to meet and greet different characters but every kid loves to see larger than life figures when they go to Amusement Parks. It is just a fun experience to go up to a character and them show an interest in your children. There are a few different characters around the LEGOLAND® park that they can meet, talk to and maybe even get an autograph.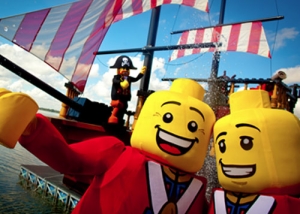 Cragger at World of Chima
Laval at World of Chima
Mascot Buddy at Fun Town Carousel
LEGO Club Max at Fun Town Carousel
Other LEGO Characters at Fun Town Carousel
Pirates at Pirates Cove
Crew Mates at Pirates Cove
LEGO Show People
Other Real People from the Pirate Show
Other LEGO Characters walking through the park

The LEGO Factory Tour
Have you ever wondered how the LEGO bricks and pieces are actually made? Can you imagine how massive the facility must be to create all of these different pieces that make up all of the different worlds that LEGO puts together? As an added bonus on your adventure to LEGOLAND® Florida, you need to take the time to go through the LEGO Factory Tour. You would think that LEGOLAND would actually have a working mini-factory to take you through the real process but be aware that this is a just a simulation of how the bricks are made. It might be fun for the smallest of kids but I don't think it will capture the attention of the older ones or the adults. On a more positive note, you do get a special edition LEGO brick for your experience at the end of this short 3-minute tour.
Don't forget to take home a LEGO branded Souvenir
Kids, and even some adults, get very excited about all of the different things that they can build with LEGO bricks and molded pieces. Over the years LEGO has created a pretty large empire that makes them stand well above many of the other toy manufacturers. This park is designed to bring fun to the entire family as well as give everyone an opportunity to look at the latest in LEGO building blocks and materials available on the market. Enjoy taking in the sights and seeing all of the different displays of LEGO fun while visiting any of the nearly dozen shops in the park. Make sure you visit a few of them before you give in to the wants of your child. If you buy in the first one, they are sure to find something they like better in one of the other shops along the way.
List of Rides and Attractions at LEGOLAND® Florida
Water Park at LEGOLAND® Florida
The LEGOLAND® Water Park, although not huge, is a great, fun way to cool off for a while when visiting LEGOLAND®. Remember that this entire park is really geared towards kids in the age range of 5 to 13. This is also reflected in the Water Park that is connected to this main park area. So what if it isn't as large as some of the other Huge Water Parks like Blizzard Beach, Typhoon Lagoon or Wet n' Wild. The parks I just mentioned are only Water Parks, they do not have other rides for the kids to enjoy like LEGOLAND® does. The kids will have a blast when they enter because of the colorful water slides and play areas that they get to enjoy. You might start to wonder if even the older kids will get on some of the larger speed slides in the park but even if they are not sure they want to be that daring, there are plenty of other slides for them to enjoy. Add in the wonderful 1000 foot lazy river with large LEGO bricks floating by and a nice size, easy wave pool and you have a place to sit back and relax for a while.
Transportation to LEGOLAND® Florida
Since you are probably staying in Orlando when you decide that you want to visit LEGOLAND®, it is nice to know that they do provide transportation to and from the park. It is not free but the cost is minimal for what you get. Think of how nice it is to not have to worry if you are taking the correct exit or if you are heading in the right direction at all. If you don't want to drive just head on over to the Orlando Premium Outlets® on Vineland Avenue. From here, you can pay your $5 / per person (plus tax), hop on a bus and away you go.
[Pricing Subject to Change]