This amazing event is almost on top of us. It was not long ago that we were sitting back, almost stunned by the announcement but also knowing that Universal was going to pull out all of the stops when it comes to promoting the expansion of their Harry Potter section of Universal in Orlando. We have see big events before but the Harry Potter Celebration at Universal Orlando could easily be one of the biggest we have ever seen. Some have compared it to events such as Comic-con where you will see people walking around dressed up as their favorite Comic Book characters. Think of what it will be like to see everyone in Hogsmeade wearing authentic dress. It is going to be an event to top all events and if you are event remotely interested in going, you best start preparing now.
What can Harry Potter Fans Expect to see?
This is going to be a spectacular event. If you have already been to the Wizarding World of Harry Potter in Universal Orlando you have no doubt already been to Ollivanders to pick out your favorite wand. You have also tasted the delights of Butter Beer but that was just the beginning. Here are some things you might be interested in seeing at this event: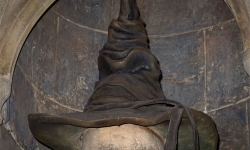 Try on The Sorting Hat™
Take in a First Hand look at new Potter artwork
Q&A Session with Cast Members
Q&A Session with Graphic Designers
Learn how to have a wand duel
Many More at this Magical Event

New Harry Potter Adventures coming soon!
Sure, this event is probably to add to the hype of the upcoming new Harry Potter additions in 2014 but who cares. When else are you ever going to have an opportunity like this again. It might be a while so load up your broomsticks and venture to the world of enchantment while you can.