Universal Studios Orlando Hours
Regular Hours
9 AM to 9 PM
Winter Hours
9 AM to 7 or 8 PM
* Park hours are subject to change without notice Check

[Universal Studios Address]

Universal Studios Orlando Information
180 Acres

8 Themed Areas

Daily Parade

Shrek 4D
Despicable ME

Rip Ride Rockit

Men in Black

Tribute to Lucille Ball
Fear Factor Challenge

Revenge of the Mummy

Shows

VIP Tours
Let the journey to a world of movie magic and thrilling rides commence! Universal Studios Orlando took on the project of creating a real life movie set adventure that regular people do not normally get to be a part of. In 1990, Universal Studios in Orlando FL was opened and it created a whole new adventure for all who wanted to visit a different type of park in the Orlando area. With a total of 8 different sections in the park, Hollywood, New York, Production Central, San Francisco, Springfield, Woody Woodpecker's Kidzone, World Expo, and the Wizarding World of Harry Potter Diagon Alley opening in 2014, you can see that there is a wondrous quest ahead for all that visit. As you enter the park, you will notice that even down the first main section, surrounded by the various attractions, there are buildings that look like they were taken right out of the movies. As you walk through New York and San Francisco, you will almost feel as if you are walking around some of the local neighborhoods and even back alley locations. You will be tempted to walk through the doors to see what is on the other side but most of these buildings are just front facades that they actually use in the movies and television to give the allusion of actually being in a location that you are not in. Even though you cannot go into these buildings, it does give you a unique opportunity to take pictures of being at these locations without actually having to travel there. It builds a level of excitement and helps you to understand how Hollywood has built some of the greatest movies of our time.
Attractions at Universal Studios Orlando
Even before you get to the gates of Universal Studios you will see the brightly colored Red track for Hollywood Rip Ride Rockit and along with the sights, you will hear the screams from the riders as the train whooshes by. That is because this Roller Coaster covers the entire left section of the park, winding through building and other rides and even out of the front section to give passers-by a thrill without even getting on. The older kids and the adults will immediately get pumped up to ride this exciting coaster but if you have little kids with you, beware, you have to make it past Despicable ME: Minion Mayhem and Shrek 4D before you get to the entrance of this ride.
So you have made it past the two main Kids Favorites and you have also had the chance to ride the amazing Rip Ride Rockit, so what is next? There are many directions you can go from here, it will really depend on the age group you are looking to make happy. If you have a little one, you will probably want to cut across the park and visit the Woody Woodpecker Kidzone. Kids will want to ride the smaller Woody Woodpecker Nuthouse Roller Coaster over and over. They will also enjoy playing in the many different playlands built just for them. After getting their fill of kiddie type excitement they may be fine for you to venture to something a little more for the older kids and adults. There are plenty of great things to do just make sure you get them all in. The Simpson's Ride is nearby and is fun for everyone in the family and even though Men in Black has been around for a while, it is still a crowd favorite. Also, be sure to hit The Mummy and the Transformers: The Ride even if you have to split up for a bit. these are a couple of rides that you cannot miss while visiting the park.
Universal Studios List of Rides and Attractions
Characters at Universal Studios in Orlando
Get out the autograph book and be ready to meet and greet along the many streets through Universal Studios. Some of the characters are great for us big kids but there are also many others for the little ones. There are many different characters walking around the park and they also have areas to meet and greet with the kids as well. The characters are always up to the task of making you believe they are who they say they are. If you see them, make sure to take time out and visit with them. You will be glad you did.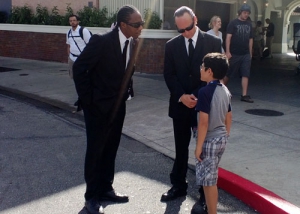 Woody Woodpecker in the Kidzone
Barney and Baby Bop in the Kidzone
Spongebob in the Kidzone
The Blues Brothers in New York
Homer, Marge, Bart and Lisa in Springfield
Doc Brown and Marty McFly in Hollywood
Gru, Minions, Shrek and Fiona in Production Central
Men in Black Agents roaming the Park
Scooby and Shaggy in Hollywood
Many, Many More around the entire park at Universal Studios

Best Shows at Universal Studios in Orlando
One of the best shows that I think Universal Studios in Orlando really doesn't even have its own venue. Instead, The Blues Brothers set up out in the street to entertain with high energy and great blues music. The kids will even enjoy this show because they will not be inhibited at all and will love the chance to get up and dance. The Universal's Horror Make-Up Show might sound as if it would have to be completely corny but it is a fun show for the entire family. Every time I see this show, it is with a different set of actors and I have not seen it performed any other way than spectacular. Terminator 2: 3D Battle Across Time is exciting to watch, it is not one that you will want to see again and again though. The parade is a lot of fun and is worth watching all of the fun characters dancing and waving as they go by. The kids will want to see this while you are in the park at least one time during your visit. Since some of the rides in the park are actually movie themed, they could also be listed as shows. Make sure you catch everything in the park. You do not want to miss anything Universal has put together for your family fun.
Transportation to Orlando Studios
If you happen to be staying at any of the Universal Resorts you will have many options for transportation to and from the parks. Some of these locations will offer water taxis and are a fun way to get around. The kids love this method because they think it is a ride in itself. If you are up to walking, all of these properties have beautiful paths to get you around as well. If you decide to drive, just be aware that there are parking fees you will have to contend with.