Animal Kingdom Hours
Hours Vary
8am-8pm or 9pm-7pm
Extra Magic Hours
7am-8pm or 8am-9am
* Park hours are subject to change without notice

[Animal Kingdom Address]

Animal Kingdom Information
580 Acres

Over 1,700 Animals

250 Species

VIP Tours
8 Animal Encounters

Dinosaurs

Fossil Dig Site

Daily Parade
Roller Coasters

Safari Ride

Water Rapids

Broadway-Like Shows
If you are looking for one of the most unique adventure parks, Animal Kingdom Orlando would fit that requirement. This park is unlike the other Disney Parks, for the simple reason it focuses on nature and conservation. Animal Kingdom Orlando Fl does have some rides that are fantastic and cannot be found at any of the other parks but it is not a place to go if your goal is to ride something different at every turn. What this park might lack in rides, it will undeniably make up for with its scenery.
As you venture through the different sections of the Animal Kingdom Orlando Park you will be immersed in 7 different worlds that have been created for your enjoyment, and in true, first-class Disney Style. It would be nearly impossible to walk around this park and not see the iconic Animal Kingdom Tree of Life in all of its glory. This man-made, massive structure towers over the park at 145 feet in height and 50 feet wide at the trunk. From a distance, this looks like a really large tree that you would find out on a lush savanna but as you get closer, you notice that it has over 300 carvings of different animals on the broad base structure. It is truly a sight to take in and you will want to take the opportunity to get some really good pictures while you are there. Just realize that this tree is also the location for the 3D showing of "It's Tough to be a Bug", so there is a lot of traffic around it at all times. The Animal Kingdom Theme Park in Orlando is home to over 1,700 animals. Since part of their job is to care for all of the animal inhabitants, it does not stay open as long as the other parks.
The Disney Animal Kingdom Live Shows
There are some really good rides at the park and we will delve into those in a bit but since there are so many Broadway-type Animal Kingdom Orlando Shows, let's talk about some of the first. Almost everyone has heard of the Lion King and since this is a Disney Park it seems only fitting that the Festival of the Lion King would appear at the Animal Kingdom Orlando Park. This amazing show of beautiful sights, sounds and colors will make you feel like you just sat down at a Broadway show. All of the shows are included with the price you paid for admission to the park. Are you looking for Nemo? If so, look no further than the Finding Nemo The Musical. Kids will laugh while enjoying the colorful sights of this adorable clownfish with a gimpy fin and his best friend Dorie. You are sure to leave humming one of the tunes as you walk around the park for the rest of the day.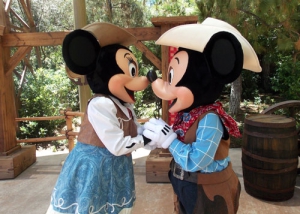 Pocahontas at Camp Minnie-Mickey
Donald Duck at Camp Minnie-Mickey
King Louie at Camp Minnie-Mickey
Chip 'n Dale at Festival of the Lion King
Daisy Duck at Donald's Safari Breakfast
Goofy at Donald's Safari Breakfast
Mickey and Minnie at Adventure Outpost
Tigger at Discovery Island
Winnie the Pooh at Discovery Island
Many, Many More around the entire park

The Safari Adventure at Animal Kingdom
If you have not been on a Safari before, you will definitely want to get on the Animal Kingdom Kilimanjaro Safari. This Safari adventure is well done but they do not stop very often during the ride for you to take a lot of pictures along the way. The Safari Bus is on a tight schedule but if you love animals you will want to ride this one again and again. Each time you ride, you will have a different experience because the driver will add little bits and pieces to make them stand out from the others.
Animal Kingdom Thrill Rides
As mentioned earlier, this is not really the park to visit if you are looking for a lot of rides. That being said, the rides you do find at the Animal Kingdom Orlando are some of the best in any park. The newest ride is the Expedition Everest themed around the famed Himalayan Mountains. Picture yourself on a mine train, rolling through the mountains when a Yeti starts tearing up the track you are riding on. Getting out without careening off of the track looks bleak but after you make it through alive, you will want to ride again. As you make your way to the Dinosaur section of the park you have another great ride called, of course, Dinosaur. Enter a 12 person All Terrain Time Traveling Vehicle where you will be transported back to prehistoric times when Dinosaurs roamed the earth. You will see various prehistoric creatures along the way and the ride is a little jerky so be aware of this if you take smaller kids with you. This ride is done very well so you will want to ride it even if you only do it once. The Primeval Whirl is also located in the Dinosaur area and if you think it looks like something only for the little kids, you would be wrong. This ride makes you feel as if your car is going to fly off of the tracks at every turn, add the many little dips and drops and you really do have a ride worth listing in the Thrill Rides section. Even if you don't have any kids with you, you will want to give this one a try.
Additional Animal Kingdom Tours
A day at Orlando Animal Kingdom Theme Park is an adventure in itself but if you really want to expand your visit and see things that most people don't have the opportunity to see, you will want to look into some of the additional Tours that are offered. These tours do cost an additional fee but how often do you get to do something like this? Take the Animal Kingdom Wild Africa Trek where you get to tour the savanna from a completely different perspective and also walk across a rope bridge high above all of the animals below. This guided tour gives you an opportunity to talk with the tour guides about any of the animals you see and you also get to have a unique dining experience at the end of the tour. The Wild Africa Trek is the most expensive of the Animal Kingdom Orlando Tours, setting you back about $189 per person for this 3-hour adventure. If you would like to add something extra to your trip but that seems a little pricey, you also have the Animal Kingdom Backstage Safari Tour or the Animal Kingdom Wildby Design Tour to look forward to. The pricing for these are about a third of the Animal Trek but they will give you an experience that you cannot get in the park otherwise.
Transportation to Animal Kingdom Orlando
Disney offers transportation from most of their Hotels and Resorts in the area. If you are planning to spend the entire day, this is a great way to get around. If you are only expecting to stay for part of the day, it might be beneficial to drive. There are additional fees for parking so you will want to figure this into your daily budget.