Have you heard any other song from your kids this year other than,"Let it go, Let it go, Can't hold it back anymore"? Just seeing those words in print will automatically have you humming or even singing it in your head because you have heard it so many times. Frozen has to be the biggest children's hit of the year and brace yourself, if you come to the Mickey Very Merry Christmas Party at the Magic Kingdom this year, you will get to see and hear it all Live at the A Frozen Holiday Wish Show. It is going to be a lot of fun and your kids will love you for taking them to see their favorite new Disney characters brought to life on stage.
A Magical Delight
It is actually very exciting, no matter what age you are, to watch the characters, Elsa, Anna, Kristoff and Olaf come to life. Since this show was centered around a "Frozen" landscape, it seems like a perfect fit to mix it into the Disney Christmas Party.
Olaf Steals the Show
Everyone loves Olaf, the talking snowman. When he first enters the performance, you will know it from the excitement of the crowd around you. Your kids will stand in pure delight as they take in every word that he has to say. This is truly one of those experiences that is best in a large crowd because of the extra energy that the shows gets from the crowd responses.
The Lighting of the Castle
As you know, Elsa has the power to change things to Ice and Snow. The most beautiful part of the show is when she gets the help of the audience to turn the Cinderella Castle into a Beautifully Lit Winter Castle. Even though you are in the Warmth of Florida, you might just get chills thinking about the ice covering the Castle. Brrrr, Cold!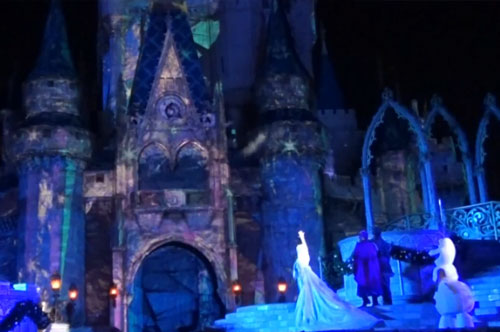 Elsa
Olaf
Anna
Kristoff
Missing: Sven and the Trolls
Take a look at the Video of A Frozen Holiday Wish