Disney World Scooter Rental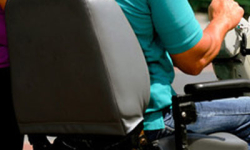 There are many different reasons that you might need to secure a Disney World Scooter Rental while you are visiting the Theme Parks in Orlando Fl. If you are having difficulty with breathing or just having mobility issues, renting one of these Electric Conveyance Vehicles (ECV) can be a life saver.
Do I really need to rent a Scooter?
Did you know that most people walk an average of about 10-12 miles per day when they visit Disney World? Some walk a little less and others add a few more miles but that is a lot of walking during a single day. This can take a toll on just about anyone but if you are having respiratory problems, you should certainly consider getting one of these Electric Mobility Scooters. It sure will make it easier on you and it will also help the family knowing that you are able to stay with them, no matter where they go. Maybe you have just had surgery or are having problems with your legs, no matter what the reason, if you cannot be on your feet all day walking, you should look at getting an electric Scooter.
How much does a Disney World Scooter Rental Cost?
| Location: | Cost | Deposit |
| --- | --- | --- |
| All Disney Parks | Daily: $50 | $20 Refundable |
| Downtown Disney | Daily $50 | $100 Refundable |
Do all of the Disney World Theme parks rent ECV's?
Yes, they do. In fact, they make it pretty easy to go from park to park as well. You are not allowed to get a Scooter at one Disney Park and keep it when you go to another park for the day though. You must turn in your Scooter at the park you rent it and when you are at the next park, just show your pay stub and you will get another without any additional fees.
Can anyone rent a Scooter at Disney World?
There are a few requirements that have to be met at the Disney Parks in order to rent on of their Electric Scooters. Here is a list of these requirements:
Must be 18 Years of Age or Older
Must have a Valid Photo ID
Maximum Weight limit: 450 pounds
What happens if I leave one park and return later?
If you rent a Scooter from one park but need to leave for awhile, you may place your ECV on hold at the Scooter Rental location and it will be ready for you when you return. As a common courtesy to other guests, it is recommended that you only do this if you are sure that you will be returning later.
Is there a more economical way to rent a Scooter at Disney World?
Yes and No. If you are determined to rent through Disney, you don't have any other option than to get a Scooter at each of the parks. If you are planning on spending a few days at the Disney World Parks, a better option might be to rent for days at a time or even by the week. There are a few companies around the area that specialize in getting mobility products right to your doorstep, even if you are staying at one of the Disney properties. This can be wonderful because you are paying a lower rate and you have your Scooter everywhere you go. Trust me, keeping your ECV and not having to turn it in at every park is a wonderful thing.
Here are a few of the Area Mobility Providers