Breakfast with Grinch & Friends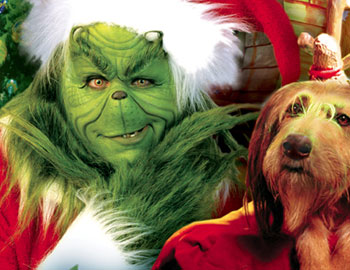 Oh, it will be fun! Taking the entire family to the Grinch Character Breakfast at Seuss Landing in Universal Orlando might be the most memorable experience you can have during your Holiday visit to Florida. You might be unsure of which Grinch will show up to Breakfast with you. Will it be the Grinch who steals all of the presents and Who-Pheasants or the one who's heart grew 10 sizes? Based on previous experience, you actually get a little bit of both and then some in between.
Where is the Grinch Character Breakfast?
Just look for the Big Circus Tent style building as you make your way around the back side of the Whoville Caro-Seuss-el ride. It is impossible to miss the large, colorful Yellow and Orange striped tent.
Breakfast Options
Included in the price are various Breakfast Entrees that you can choose from. There is no mention of Green Eggs and Ham but you can get normal Breakfast with the Grinch items like Scrambled Eggs, Pancakes, Fruit and even some Muffins and Croissants are shown on the menu.
What other Characters will I see
You will certainly see the Grinch while you are eating but who else will be in the room wandering around. You will also have the chance to meet and take pictures with the Cat in the Hat, Thing 1 and Thing 2 as well as other Whos from Whooville.
Please Note: Reservations are required to attend this event and since it is inside of the Islands of Adventure Theme Park, you must have paid for your Park Admission. Just having your ticket to the park does not gain you access to this event.
Take a look at the Video of The Grinch at Universal Orlando
There is no better way to get a feel for what the Grinch is like than to see him in person. Watching this video will give you a good idea of what the Griinch is like. If you read reviews on the Grinch, some say he is mean and a little over the top but he is The Grinch after all. Take a look and see what you think.