Parade of Macys in Orlando Fl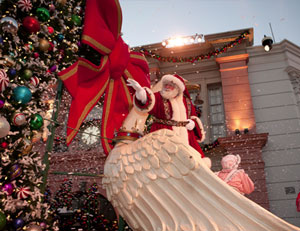 M
acy's Holiday Parade Universal Studios? If you thought you would have to stand in the long crowds of people in New York city before you could see the famous Macy's Parade, think again. Did you know that after the Macy's Thanksgiving Day parade happens in Times Square that many of the floats and balloons get shipped to Universal Studios in Orlando Fl? That is right and this has been going on for a while now. So instead of fighting the cold of New York, the traffic and the crowds, bring the family to Orlando and enjoy a magical warmer version of the Holiday Parade put on by Macy's in Universal Studios Orlando.
Is it the same parade?
Yes and No! Yes, you will see some of the same floats and huge balloons as the real parade but some of the marching bands had to be replaced as well as some of the show stopping performances. Of course the Broadway and off-Broadway shows have to go on so you will not see the musical numbers like you would at the NY parade but Universal makes up for this with much of there own Florida talent. I promise that you will not be let down. It is a great sight to see and the kids will have a complete blast watching everyone pass by.
You will get a better view of the Parade if you watch it in Universal Studios but realize that it is not quite as large as the real thing. Still, the kids will love the bright colors, music, clowns and bands as they pass by.
Take a look at the Video of The Osborne Family Spectacle of Dancing Lights