Visiting Disney World on New Years Eve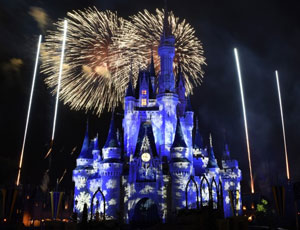 You might think you know what large crowds are like but you have no idea until you visit on New Years Eve at Disney World. Don't get me wrong, the Magic is still there but if you don't prepare for this momentous day at the Disney World Theme Parks, you might get so frustrated, you could leave the parks before you even get to see the extravagant display of Fireworks that you were so excited to bring your family to see. So let's see what we can do to help you navigate this day to make it Magical as it can be.
Disney World New Years Eve
Let take a look at some of the things you should know about visiting Disney World at New Years that many people either don't know or just do not think about.
Arrive Early:

Did you know that many of the Disney Parks fill to Capacity on New Years Eve? Especially the Magic Kingdom. This is quite true and if you have not been to Disney World for New Years Eve before, hold on to your hat because you are in for a wild ride. Even if you are a guest at on the the Disney Resorts, you are not guaranteed access to the park of your choosing on New Years Eve. If you keep this in mind, you might want to get to the park of your choice early and plan to have a very long day wading through large crowds of people. Once the parks reach their full capacity, they do not allow any additional visitors to enter. Because of this, you should probably plan on staying in the park you started at, even if you do have a

Park Hopper Pass

. Please take this to heart. This is not an exaggeration. Prepare for a long day and lot's of people around you.

Book Early on FastPass+:

If there is a ride that you really want to do on New Years Eve, get on the FastPass+ system as early as you can. Rides will go quickly so the earlier to reserve, the better. Lines will be long at most of the rides, so the FastPass+ is your only way to get on anything during this day.

Disney Characters in the Parks:

You will have the opportunity to spend time with different Disney Characters in the park and this is even a more wonderful time for the kids to meet their favorite Characters.

New Years Eve Celebration on the 30th and 31st?:

Fantasy in the Sky Fireworks at Magic Kingdom Dec 30 and Dec 31 at 11:50pm. If you want to see the New Years Eve Celebration but beat the crowds (at least some of them), go to the Celebration a day early on December 30th. They run the same show that you will see on New Years Eve but it will be far less crowded.

Double the Fun at Epcot:

There are plenty of things to do in Epcot during the New Years Eve Celebrations with all of the different countries showing off their own unique ways to bring in the New Year. If you want your kids to see the main fireworks show, "IllumiNations: Reflections of Earth" but you know they will not be able to stay awake until midnight, it is great that they have the show twice on this day. That is right, you can catch this spectacular show at 6pm and 11:40pm.