Grinchmas Spectacular on Stage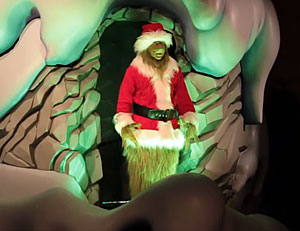 W
ho can resist the appeal of that favorite green, smelly, hairy Christmas Character that we love and loath but pull for in the end because of the wonderful change of heart? Of course we are talking about the Grinch and there is nothing better than to see all of your Whoville characters as they take the Stage in
The Grinchmas Wholiday Spectacular
at the Islands of Adventure in Universal Orlando Fl. Join in the fun and sing along to your favorite Grinch songs with music recorded by the Mannheim Steamroller Orchestra.
Where is the Who-liday Spectacular?
As you start your walk through the Port of Entry, as soon as you get to your first major fork in the park, take a right to Seuss Landing. After you pass the Red Fish, Blue Fish, One Fish, Two Fish ride, you will see an entryway that takes you to a large enclosed sound stage area. This area is off limits at all other times of the year but Stage #19 opens up for guests of the park at Christmas time to enjoy the whimsical fun of the Grinchmas Wholiday Spectacular.
Who hasn't seen the animated version of "The Grinch Who Stole Christmas"? I would venture to say that almost everyone has seen this iconic version made back in 1966. On top of that, a newer more Real Life version with Jim Carey playing the Grinch was made back in 2000 when the full movie version released "How the Grinch Stole Christmas". It is nice to watch these and laugh during the Holidays but there is nothing like seeing your Who-ville Characters with Cindy-Lou Who on stage in real life working to win over the heart of the maniacal, mean-spirited Grinch. You will laugh and sing along and have all of the wonderful songs of the season with you after the show is done. The lights and sounds are fantastic and will create a memory to share with your kids for many years in the future.
Take a look at the Video of The Grinchmas Wholiday Spectacular