What are Disney Magic Bands?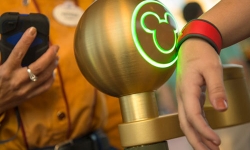 It is that time again. Time to start planning your vacation to Disney World and experience all of the new fun and adventure that awaits. Things might have changed a little since the last time you visited and one of these major changes is the "Magic Band" system. What are Magic Bands? you might ask. This is Disney's new way of tracking all of your information in a computer chip that is embedded in a rubber bracelet for everyone who visits.
Information Tracking for you or Disney?
When you decide that you are ready to sign up for the MyMagic+ Experience, one of the things you get is one of these Disney Magic Bands. Disney takes all of your account information and programs a code to your very own Magic Band which, when used, accesses the Disney Database to allow access to rides and attractions. You might be wondering if this is a good idea for you and your family or is this just another way for Disney to get more information on you to advertise in a way that makes it more appealing for you to purchase things. Well, there is not a really good cut and dry answer to this. You will probably find that the convenience of having one of these bands is great due to the fact that it does everything in one little package. It is also nice that it is a device that stores all of the information that Disney will need as you go from your Disney Resort to any of the Disney Parks. It can be a little un-nerving that Disney is building a database of information on you and your family and although they are not building advertising for children under 13 years of age, you can be assured, with all of the money they have put into this program that they are going to use the information to their benefit. Sure, it sounds a little invasive but if you are going to be a guest at any of the Disney parks, it is a convenience you will have to have.
Disney Magic Bands – What do they do?
Colorful, Waterproof Wristbands
Provides Entrance to all of the Disney Theme Parks
Access to the Disney Water Parks
Access to Disney Resort Rooms
Make Purchases at some of the Disney Resorts
Fastpass+ Access
Bands use an RF or Radio Frequency Transmitter to Collect information
Long and Short Range Readers
If you think about it, it really sounds like something you would hear on the bridge of the Enterprise from Star Trek. "Captain, I am picking up a ship on our Long Range Scanners…" You will see the Short Range Readers out side of your room at the Disney Resorts, at the entrances to the parks and at many of the Rides and Attractions at the different Theme Parks. This allows you to put your band close to the reader for it to read your identification code and grant you access to everything you have paid or signed up for. The Long Range Readers are used to track your location and deliver benefits like photo experiences throughout the parks.
If someone gets my band, can they also get the information stored on the chip?
It will give you great peace of mind to know that none of your personal information is stored physically on the wrist bands. The only thing assigned to the band is a randomly assigned number that binds all of your information from the Disney Encrypted Database to your wristband.
Do I have to get a Disney Magic Band?
Absolutely not. If you are not sure that this type of system is for you, you can opt to get a Card to carry around instead of having to wear a band. Although there are a number of benefits to having a Disney MagicBand you also have to determine if you want to have a spot on your arm that does not tan with the rest of your body. I think this is something to really sit down and consider. 🙂
If you are really concerned about your privacy, the Disney Band might not be for you. Be aware though that if you signed up for your tickets online, Disney still has all of your information, they are just not associating it to an electronic frequency bound to your wrist as you walk through the park. I was joking a little before about the lack of suntanning on your arm where you will have your band but in all seriousness, since having a cell phone, I have not worn anything on my wrist and it might be difficult for me to get used to.
[Pricing Subject to Change]