What Exit is Busch Gardens Tampa?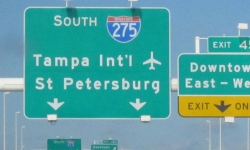 A
s you are traveling along your merry way, excited to get to your place of destination, you look over to your spouse and ask
What Exit is Busch Gardens Tampa?
It really depends on what road you are coming in on. If you are coming from Orlando, you are probably driving along Interstate 4. If you are coming up from the South, maybe from Clearwater Beach, it will be much faster to get on Interstate 75. Since there are so many different directions to take, let's take a look at all of the main routes to get to Tampa Florida Busch Gardens and see what exit you will take from each of them.
Interstate 275 – Exit 50
Exit 50 – SR 580
Busch Blvd

Interstate 74
Exit 265 – SR 582
Fowler Avenue

Interstate 4
Exit 9 – Interstate 75
Ocala / Naples

I really don't want to drive, is there a shuttle?
You can catch a shuttle with Mears Destination Services which offers round trip transportation from multiple designated locations in the Orlando area. If you have already purchased your tickets for Busch Gardens, as long as you are at one of these locations, you can catch a free ride. Be aware that depending on where you catch the shuttle, there might be additional stops along the way. If you only have a day or two to spend at Busch Gardens Tampa, you might consider just driving. This way you have control over your travel plans.
[Pricing Subject to Change]