Where is Disney Hollywood Studios?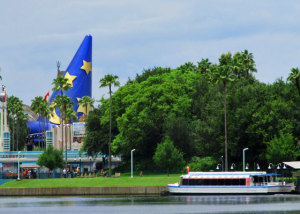 Enter the World of Wonder while feeling as if you are truly in the Backstage of a Hollywood Production. All you have to know is Where is Disney Hollywood Studios? Disney Hollywood Studios is very close to Orlando Fl but it is actually located in Lake Buena Vista, Florida. This Park can be accessed by taking the Buena Vista Drive Exit on Interstate 4 (I-4). As you drive along the road to Hollywood Studios, you will see the most anticipated ride in the park, The Tower of Terror. This will help to get the excitement flowing as you get closer and closer to the park.
Water Transportation
Disney Hollywood Studios is accessible by the amazing Water Taxi System. Furthermore, you can choose from 5 different Resorts nearby, 3 of which are Disney Resorts, that have Water Transportation as a great option to get to Hollywood Studios. You can also walk from any of these Properties along a 1 mile walking path that takes you on a beautiful, scenic stroll along the water canal.
Take a look at all of the resorts Near Disney Hollywood Studio.
Mickey's Sorcerer's Hat
While seeing the Tower of Terror looming over you as you enter the Park, the kids get very excited when they see the Giant Mickey's Sorcerer's Hat in the middle of the Park. There is a nice shop under the hat but even more spectacular, each day, a DJ gets up on stage and gets the beats pumping. This is a great place to hang out for a while and let your kids expend a little more energy by dancing to music. I promise that they will be completely tuckered out if you do this for part of your day.
Map showing the location of Hollywood Studios in Lake Buena Vista, Fl