Disney World Wheelchair Rental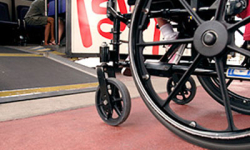 Are you in need of a little motion support? There are times when you might not be able to bring your own Wheelchair or maybe you get hurt during your trip. If any of these are the case, there is no need for concern because you are able to get your very own Disney World Wheelchair Rental. If on the other hand, you want to control your own movement and not rely on others around you, check out the Scooter Rentals instead.
How do I reserve my Wheelchair?
As a matter of fact, you are not able to reserve a Wheelchair at the Disney World Parks. Since there is a limit on the number of Rolling Chairs that are available, Disney treats this as a First Come First Serve option. This is not normally a problem on light to normal crowd days but if you are visiting during a peak season, like, mid-summer, Christmas or Spring Break, you will probably want to arrive at the parks early to ensure that you are able to get a Wheelchair at Disney World.
How much does a Disney World Wheelchair Rental Cost?
Location:
Cost
Deposit
All Disney Parks
Daily: $12
Multi-Day: $10 per day
No Deposit
Downtown Disney
Daily $12
$100 Refundable
Disney Resorts
Complimentary
$315 Refundable
Where can I pickup my Disney World Wheelchair?
There is a Wheelchair Rental location at the entrance of each of the four Disney Theme Parks. Disney tries to make this process as easy as possible so you do not have far to go before you get in your chair.
Disney Wheelchair Rental Requirements
All ages are able to ride in a wheelchair if needed but to actually rent one there are a few stipulations you must meet first.
Must be 18 Years of Age or Older
No more than 1 person per Wheelchair
Must have a Valid Photo ID
Maximum Weight limit: 350 pounds
If I have a Park Hopper, can I take my Wheelchair to all Parks?
When you rent a Wheelchair from one Disney Park, that rental fee is good for the entire day. This does not mean that you are allowed to take a Wheelchair with you from Theme Park to Park. If you do leave one location, you have to turn in the Wheelchair when you leave then show your pay stub at the new location and you will get a Wheelchair to use at that Park. Of course, this is based on availability.
I don't want the hassle of turning in my Wheelchair during my visit?
Disney World Resorts, do not rent Wheelchairs over a Multiple Day period. Mobile Chairs are available to any guest for Free provided they have them available. If you are Visiting the Disney Parks for Multiple Days, you will probably want to get a Multi-Day Wheelchair Pass. This costs a little less for each day and all you have to do is show your ticket at each Rental Location and they will provide you with your chair for the day. Simple as that.
If on the other hand, you would prefer to have your Wheelchair everywhere you go, check out one of the local Mobility Providers. You are able to rent by the day, multiple days and even by the week. The prices work out better if you are staying for a few days and they will also deliver your Wheelchair directly to the place you are staying.
Non-Disney Wheelchair Providers