Take a fantastic journey around the world and see how all of the different countries and cultures celebrate the special Holiday seasons around the globe without leaving the comfort of Orlando Florida. If you visit Epcot at Christmas you can do just that. Many visitors skip over Epcot when visiting Disney World but this is something you should reconsider if you would like to take part in Christmas Celebrations from other lands. It is true that different places celebrate very different from how we do in the States. This will also give you a great opportunity to teach your kids how different other countries are without having to go on a long plane ride.
A Christmas Party Around the Globe
As you walk around to the different countries celebrating the Season, you can't help but get in the Christmas Spirit. Dancing and Music get you excited but the food is what you really want to partake in. It is amazing when you consider that we all celebrate the same holidays but we do it so differently. This is an adventure to give you better insight into the cultures all around.
Countries with Christmas Festivities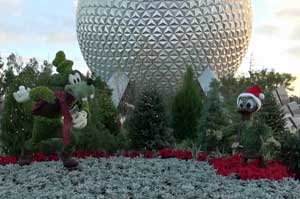 America
Canada
China
France
Germany
Italy
Japan
Mexico
Morocco
Norway
United Kingdom

Take a look at the Video of Epcot at Christmas