Grinchmas Universal Islands of Adventure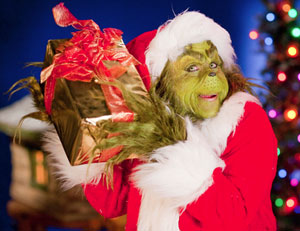 Max, oh Max, where are you? You won't see the trusted sidekick to the Grinch, Max roaming around free in the park but you will see many of your other favorite characters all around during Grinchmas at Seuss Landing at Islands of Adventure in Universal Orlando. If you would like to see Max, live and in person (well in dog), make sure you catch the one and only Grinchmas Wholiday Spectacular Stage Show where there is live singing and Dancing. If you really want to get up close and personal, just walk through Seuss Landing and see all of the crazy fun you can get into with all of the Whos.
Be a part of the Who Festivities
We all know how Whos are, don't we? They are fun and exciting dressed in elaborate clothing and have very special noses. If you see a gathering of Whos around the park, just walk up and join in the fun. They will be thrilled that you did and will probably get you to participate in whatever they are doing at the time.
You can absolutely see and talk to the Grinch while in Seuss Landing. He is the best one to find because he is full of fun and pranks that you will not get from the other Characters walking around. If you want, he is also setup in the Bookstore at certain times to take pictures with anyone who might want one. This is an adventure that is a delight for the entire family. After you visit Who-ville during Christmas, you will want to do it again in the future.