What are the Hollywood Rip Ride Rockit Hidden Songs?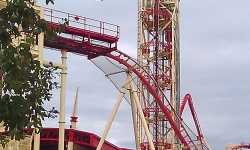 One of the biggest draws to Universal Studios, for those looking for a great thrill ride experience, is the Rip Ride Rockit Roller Coaster. Even though you are given instructions on how the ride operates and that you are allowed to create your very own musical selection, there is something that they do not tell you in the line. It is pretty amazing that it is not more well known that there are Hollywood Rip Ride Rockit Hidden Songs and it will make you feel like you know something that nobody else knows when you enter songs that are not included in the main play list. In fact, you may almost feel guilty for knowing something that others around you do not know. When the ride is done, do you share this secret with the others that you rode with or do you continue to keep this secret as your own little guilty pleasure. The decision is yours but others will really enjoy knowing that there are so many hidden songs in a secret menu on the Hollywood Rip Ride Rockit Roller Coaster.
How do you access the hidden songs on the Hollywood Rip Ride Rockit?
When you take your seat on the roller coaster, you are only given a short amount of time to select your perfect song so let's get to the hidden menu. On your initial screen you will see a list of different music genres, at the top of this list you will see a logo for the Rip Ride Rockit. Press down on this logo for about 10 seconds and then let go, this will bring up a numeric keypad where you will be able to enter a secret code. Since it is not a list of songs to choose from you will need to know the actual code for the song you want to listen to. Here is the most updated list known for the songs that you can enter.
List of Hidden Song Codes for the Rip Ride Rockit
101 – Temples of Syrinx by Rush
102 – Blues Before & After by The Smithereens
103 – Break On Through by The Doors
104 – Crocodile Rock by Elton John
105 – Do it Again by Steely Dan
108 – 8 Miles High by The Byrds
109 – Fantasy by Aldo Nova
111 – Unknown Guitar Solo
112 – Freebird by Skynyrd
113 – Immigrant Song by Led Zeppelin
114 – Just Because by Jane's Addiction
115 – Live by Lenny Kravitz
116 – Mexicola by Queens / Stone Age
117 – Eruption by Van Halen
121 – Tom Petty by Runnin' Down a Dream
122 – Rolling Stones by Start Me Up
123 – Stockholm Syndrome by Muse
124 – Breaking Benjamin by Diary Of Jane
127 – Urgent by Foreigner
128 – Vertigo by U2
129 – Wheel in the Sky by Journey
131 – Klein Mandelbrot by Blue Man Group
132 – Drumbone by Blue Man Group
301 – Float On by Modest Mouse
302 – I Want You Back by Jackson Five
303 – In My Pocket by Cat Empire

304 – Still Rock 'n Roll To Me by Billy Joel
306 – Lose Yourself by Eminem
307 – Ride Like The Wind by Christopher Cross
308 – Run to You by Bryan Adams
309 – Save Room by John Legend
310 – Vogue by Madonna
312 – My Everything by Barry White
508 – Pivot by Dry
701 – Cyanide by Metallica
703 – For Whom The Bell Tolls – Metallica
704 – Forever Down by Black Label Society
707 – Know your Enemy? by Rage Against the Machine
708 – Let's Go by Ministry
709 – Mouth For War by Pantera
710 – Painkiller by Judas Priest
711 – Paranoid – Black Sabbath
713 – Wicker Man by Iron Maiden
715 – Wake Up Dead by Megadeth
718 – You've Got Another Thing Coming by Judas Priest
772 – Dance or Die by Family Force 5
773 – Mess of Me by Switchfoot
777 – Eastern Hymn by David Crowder Band
778 – Faceless by RED
901 – Movin Right Along from The Muppet Movie
902 – Rainbow Connection from The Muppet Movie
904 – Night on Bald Mountain by Modest Mussorgs

What song will you choose?
Take a look at this long list. You will surely get excited and find a number of tracks you will want to try out on your next visit to the Hollywood Rip Ride Rockit at Orlando's Universal Studios.