How much is parking at Busch Gardens Tampa?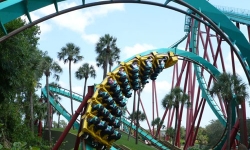 A
nother expense that you might have is the parking at Busch Gardens Tampa Florida. So,
how much is parking at Busch Gardens Tampa?
It depends on a lot of factors and if you are planning to visit the park on multiple days during your stay, it might be worth upgrading, at least one of your tickets, to take advantage of the different special rates that are available to preferred guests. One normal misconception some people have when visiting is that the cost of the passes automatically gets you a free parking pass. There are very few Theme Parks that operate this way and there are additional fees if you are going to be parking a vehicle at the Busch Gardens Tampa Theme Park. How much you will spend on parking is another matter. There are a few different options to choose from so let's take a minute and break it all down.
List of Parking Rates by Vehicle
$15 USD – Motorcycles
$15 USD – Automobile
$15 USD – Trucks

$15 USD – RV
$15 USD – Camper
$22 USD – Preferred Parking

$11 USD – Preferred Parking (Pass Members)
$0 USD – Preferred Parking (Platinum Members)
Consider upgrading one pass if you are staying for multiple days
You can do the math on this but if you are staying for multiple days, sometimes it will work out in your favor to upgrade at least one of the passes to a 1 year pass or a Platinum pass. Not only do you get a better price on the parking, you also get a percentage off of everything you purchase while you are in the park
[Pricing Subject to Change]