How much is parking at Disney World?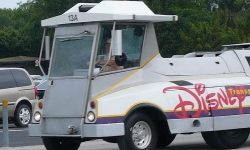 S
o, you have already purchased your tickets to visit Disney World on your vacation but you want to know any other expenses you will have when visiting Disney World. Well one of the main questions you should have is,
How much is parking at Disney World?
Believe it or not, a lot of people will visit these parks thinking that the cost of the passes to get in to the parks includes the parking fee and that is just not the case. It is Disney after all and Mickey is looking to make money at every turn. Since there are additional fees for parking at Disney World, let's break it down and see how it actually works. The main thing you should know is that the Parking Fees are the same across all of the Disney Parks in Orlando.
Parking Rates are the Same for All Disney Theme Parks
List of Parking Rates by Vehicle
$15 USD – Motorcycles
$15 USD – Automobile
$15 USD – Limousine

$15 USD – Taxi
$16 USD – Camper
$16 USD – Trailer

$16 USD – RV
$19 USD – Bus
$19 USD – Tractor Trailer

Disney Resort and Hotel Guest get free parking during their stay
I know that the Disney Resorts might cost a little more but there are additional perks for those guests who book their stay at one of the Hotels or Resorts in Disney World. Any guest staying at these locations automatically get free parking to any of the Disney World parks during their visit. Just show your Hotel ID at the main entrance and the parking attendant will give you a free pass for that day. Since you are staying at one of the Disney Resorts, you might consider leaving your car in the parking lot and taking one of the many types of Disney Transportation instead. Driving in Orlando can be very frustrating if you are not familiar with the layout.
Annual Pass holders get Free Parking
If you are staying at Disney World for any length of time, you might find that purchasing an Annual Pass might work out to your benefit. One of the many perks you get is free parking for any visit during the year and it doesn't matter if you are staying at one of the Disney properties or not.
[Pricing Subject to Change]