Can you think of anywhere else more magical to take your kids over the Holidays that to Disney World in Orlando Florida. When you are there, you will have to take the time to see the spectacle put on at the Magic Kingdom, Mickey's Very Merry Christmas Party. The entire Magic Kingdom gets transformed into a gleaming display of beautiful Christmas lights and cheer. It is a Party for the entire Family and it goes all night. Plan your time wisely because it will take all night to get through all of the fun and festivities at this incredible event. It will truly be one of those moments in time that will never be forgotten.
Live Entertainment at every turn!
When you go to any of the shows in Disney World, you expect nothing but the best and that is what you will get with the Very Merry Christmas Party put on by Minnie and Mickey Mouse along with all of their friends.
Celebrate the Season Show
In front of Cinderella's Castle, the stage is set for a spectacular event with some of your favorite Musical Numbers on magnificent, Block Ice setting. You will be amazed by the beauty and your kids will almost be overwhelmed by everything that Disney pours in to this feature presentation. What would the Christmas season be without Santa Claus? That is covered as well but it might be a little different than you would expect. You are not going to see the Jolly old elf that you might be expecting during this Disney Musical but I don't think the kids will mind. Not long into the production, you will see Goofy appear dressed as Kris Kringle while everyone else joins in song around him.
The Nutcracker too! Well, not completely, but there are some great numbers with some very talented ballet going on. It is a Disney musical so expect some additional zany antics that you would never see in the real musical of the Nutcracker. This will nearly guarantee that your children will not get bored though.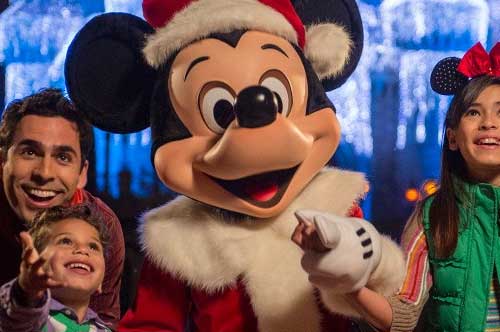 Mickey Mouse
Minnie Mouse
Donald Duck
Chip n' Dale
Goofy (Santa Claus)
Many, many more
Mickey's Once Upon a Christmastime Parade
Grab the kids and head down to the Main Street of the Magic Kingdom where one of the most anticipated time of Mickey's Merry Christmas Party begins. The Parade itself is full of wonder and all of the Disney Characters you can imagine. This is a great place to get some pictures and video while watching the smiles from ear to ear on each one of your childs faces. And, just wait until they see Santa come down the procession, big and bright riding in his large red sleigh. This is the part your kids will be discussing throughout the entire night.
Holiday Wishes: Fireworks Display
What is that in the sky? No, it can't be, but it surely is. Starting off the Holiday Wishes Fireworks display at Cinderella's Castle, you start to see the lighting that appears to be a person. Well, actually, it is Tinkerbell! She zooms across the night sky all lit up and you have to take a second look to see if it is real. Let the Fireworks display begin with Music and a message from Jiminy Cricket. This fantastic show is a great time and having it done with a Holiday Theme, makes it that much more special.
It is true! The regular Disney tickets that get you into the Magic Kingdom do not include the Mickey Mouse Very Merry Christmas Party. These tickets are sold separately so be sure to get them early because you might be able to save a little money along the way. Check on the Dates and times below for the 2014 season.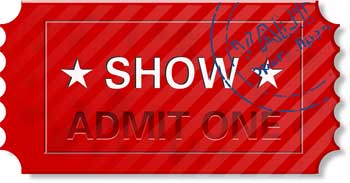 Totally Tommorrowland Christmas
Enjoy the fun of a Tommorrowland, up tempo show with Music Dancing and some of the more futuristic characters in the Disney Galaxy. Share this wonderful time with Buzz Lightyear, Mike Wazowski and Stitch. The kids will not be able to contain themselves with all of the excitement of the show. This 20 minute show is centered around Stitch trying to understand who Santa Claus is. Just wait to see what happens in the final minutes of the show.
List of Dates:
Mickey's Very
Merry Christmas Party
All Shows take place from 7pm until Midnight
November Dates:
7, 10, 13, 14, 16, 20, 21, 30
December Dates:
2, 4, 5, 7, 9, 11, 12, 16, 18, 19
Dates shown are for the Year 2014
Take a look at the Video of Mickey's Very Merry Christmas Party