What are the parks in Disney World?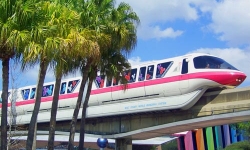 T
here are a total of 4 very unique and different parks at Disney World in Orlando Florida. If you have not been to the Disney Parks in Orlando you are in for a real treat.
What are the parks in Disney World?
Disney started out with the
Magic Kingdom Theme Park
and this is where the most famous symbol stands, Cinderella Castle. This park is geared for the entire family but also has a lot that will work out great for the little ones. Magic Kingdom has great family rides like
Splash Mountain
and the
Haunted Mansion
. These are some of the iconic rides but there are also many new additions to the park and it is changing every day.
Epcot
was added as a way for people to visit a World Fair year round. This amazing place has a few unbelievable rides like
Test Track
and
Mission Space
and will be an adventure for the entire family. It can also be a great learning experience. There are a total of 11 different nations with pavilions setup to show the world some of their distinctive qualities. Enjoy learning about these far away lands and eating authentic meals without ever leaving the park.
Hollywood Studios
takes you back in time to the golden age of movie making but also takes you to the cutting edge with amazing movie shows like the
Indiana Jones Stunt Spectacular
. Some of the best rides at Disney are here as well with the
Tower of Terror
and the
Rock 'n' Roller Coaster
just to name a couple. Although, not packed with rides, the
Animal Kingdom
is one of the most fascinating parks at Disney World. Styled as an African Savanna, this park is truly a spectacle to see and with rides like the
Kilimanjaro Safari
that get you up close and personal with the animals, you will want to visit again and again.
4 Great Disney World Theme Parks
Here is a list of the Four Amazing Theme Parks at Disney World in Orlando Florida. At a glance you can see that they are all very different. Take a deeper look into each one to find out all of the different wonders they have to offer you and your family on your next vacation.
Visit them all if you can fit them in
As you can see, there are so many things to do while at the Disney Parks. Many people find that even on a full week long vacation, they do not have near enough time to take all of the Magic in. Since Disney does such a great job of keeping these parks up to date with new rides, attractions and shows, it really never gets old.
[Pricing Subject to Change]