What is Disney FastPass Plus?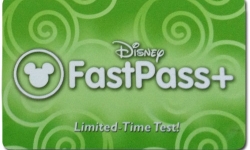 I
f you are looking to stay ahead of the crowd when visiting Disney World in Orlando Florida, you will have to get started with the Fastpass Plus system. What is Disney Fastpass plus you might ask? If you have ever been to any of the Disney Theme parks in the past you are sure to know about the old Fastpass system where you would walk, or sometimes run, from attraction to attraction standing in line to get a ticket for each family member to have a scheduled time to get on a ride. This was a great development years ago when Disney started this process because it would save you from having to stand in line for hours at a time for every ride. The biggest problem was that you physically had to go to each ride to get your fastpasses. That could mean a tremendous amount of precious time not to mention the extra wear and tear on your feet to accomplish this task. Still, it was much better than taking in the normal wait times for each adventure that Disney presented you with.
So, what has changed with the Fastpass Plus System?
It might still need some refining but it is light years beyond the old fastpass system. Fastpass plus is part of the MyMagic plus system that Disney has spent Billions of dollars to perfect over the past few years and now it is ready for the public to enjoy. After you have signed into your newly created Disney Account, you will have the option of setting up your Fastpass Plus, as long as you have purchased your tickets ahead of time.
How do the Kiosks work?
Kiosks are small computer touch screens located around the Disney Parks. They will allow you to use your Disney Theme Park Pass or a Disney Magic Band to start setting up your Fastpass selections. Some locations have multiple Kiosks and the lines might look pretty long to get through. Since there are multiple Kiosks and Disney workers handy, the lines generally move along quickly. Compare this to walking around the park to multiple attractions to get a fastpass for each ride and you will see how this system is much more streamlined allowing you to get them all from one place. Whether you use the Kiosk, the Mobile App or your computer (prior to arrival), the Fastpass Plus system will only allow you to select up to 3 attractions per person per day.
What if I don't get the time that I want?
This has always been an issue with the fastpass system and to some degree it still is. Remember, you are sharing the park experience with Tens of Thousands of other people, so to make this system fair, it cannot play favorites. When you are setting up the attractions that you want through the Fastpass Plus system, you will be presented with a list of times available for the attraction. They try to accommodate your time needs as best as possible by giving you multiple time slot options to fit the time of day you are looking for. If you select one of these times, you always have the option of going back to the Kiosk and making a change if needed. Just know that you will be presented with available times, you do not get to specifically set the time that you want.
I have my selections, Now what?
Now that you have loaded up your Park Pass or MagicBand Plus with all of the rides and attractions you can have for the day, how do you use it? That is really the simplest part of this process. All you have to do is show up to the ride at the time specified when creating your Fastpass Plus reservations and hold your card or band to the Reader in the FastPass line. The Mickey will turn green and the Disney Cast Member will give you access to the ride allowing you to pass through the normal lines.
When should I get my Fastpasses?
The sooner the better I would say. If you have your MyMagic Plus account setup and you are staying on a Disney property, you can actually schedule your Fastpass plus up to 60 days in advance. If you are not staying at one of the Disney Resort properties, if you are an annual pass holder or if you purchase your tickets in advance, you can still select your Fastpass experiences up to 30 days in advance. Don't worry if you are not able to get this done in advance though. Disney holds plenty of additional passes for all of the visitors who plan to set this up from the Kiosks inside the park. If you do decide to wait until you get to the park, it is probably best to get to the Fastpass Plus Kiosks lines as early as possible to have the best chance of getting the times that you would like for your daily choices.
I have used my initial 3 Fastpasses, Can I get more?
Yes! You are allowed to get one (1) additional Fastpass per day after you have used the initial 3 that have been created. I found it frustrating that you could not create the additional Fastpass through the Mobile App though. At this time, you have to find one of the Kiosk locations and setup your additional FP at this location. If you have not used the Disney MagicMy Way App, it is definitely worth downloading and having on your device while you are visiting. I hope that in the near future, they will add the ability to create the 4th Fastpass without having to find a Kiosk. Be aware that as the day goes on, if the crowds are heavy, you might not get a pass for some of the rides that you are hoping for.
How does the Fastpass Plus system work for Park Hopper?
This is one of the frustrating features of the Fastpass Plus system at this time. At least for now, there is not a way to get a fastpass for rides at the different Disney Parks on the same day. For example, if you are visiting Animal Kingdom on Monday, when you setup your Fastpasses at the Kiosk on online, you will only be able to get fastpasses to Animal Kingdom rides and attractions for that entire day. If you decide to "Hop" on over to Hollywood Studios later that evening, you will be standing in the normal lines because there is no way to get Fastpasses for any other parks throughout the entire day. I hope that this changes in the future because this was not a limitation with the old fastpass paper system in the past. To spend so much money on a system and cause such a big limitation on the guests could get a little frustrating along the way. I would guess that Disney will change this at some point but at the time of this writing, this is how it was setup.
Can I use the Fastpass Plus for the Parade and Shows?
Yes, the fastpass plus system allows you to book a Fastpass for so much more than rides. If you are wanting to get a guaranteed place in viewing one of the Disney Parades, you can book a fastpass for that awesome event. When you go to watch the parade, there will be specific locations available to Fastpass holders so in essence, you are basically getting a reserved area just for you. Shows work very similar as well, there is reserved seating for the Fastpass holders and when you arrive at the show you are escorted to these special reserved areas.
My Child loves to do the Meet and Greets
That is good news if you are using the Fastpass plus system. If you have ever done some of the Meet and Greets where your child has the opportunity to stand with their favorite Disney character for pictures and autographs, you know how time consuming this process can be. With the Disney Fastpass system, it streamlines this process allowing you and your child to move the the Fastpass Plus line at a more rapid pace allowing you to move on to other wonderful areas in the Disney World Complex.
Can I get multiple Fastpass Plus for the same ride?
Not on the same day. Here is an example; you are visiting Epcot and you absolutely love Test Track. You will be allowed to get a single fastpass for Test Track each day you visit Epcot but it will not allow you to get all 3 Fastpasses to any individual ride on any given day. Although you do get to bind 3 Fastpass Plus experiences per day, they have to be for 3 different rides.
Are all of the rides available on the Fastpass Plus?
A number of the attractions are available using the Fastpass Plus system however, there is something else you need to know. Rides and attractions are configured in different Tiers or levels. The Fastpass system will not allow you to get 2 Tier 1 Fastpasses on the same day. A good example of this is if you are visiting Epcot and you want to get a Fastpass Plus for Test Track and Soarin'. Since both of these rides are in the Tier 1 level, you will only be able to get a Fastpass for one or the other for each day that you visit. This type of system has been a big frustration for visitors and Disney has said that they have to manage it this way to be fair to everyone visiting the parks.
List of Fastpass Plus Rides and Attractions at each Disney World Park
The Evolution of the Fastpass
Looking back on the old system where you would have to stand in line at every attraction just t get a fastpass paper ticket and then have to return to that ride or attraction later in the day to use your fastpass, the new Fastpass Plus might have some obvious benefits. I think that we will continue to see this system evolve and get better as Disney listens to guests complaints and complications. There will always be flaws with any system but they have to start somewhere and after sinking about 2 Billion dollars into this system, I am pretty sure that it is here to stay.
[Pricing Subject to Change]