What are Disney World Extra Magic Hours?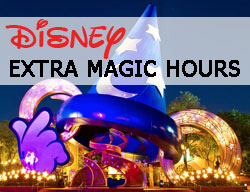 If you have not had the chance to experience the wonders that come with having Disney World Magic Hours, you are really missing out on something special. This might not be as big of a deal to someone who is able to visit the parks during some of the off-peak times during the year but if you are planning to visit at any of the peak times, having the Extra Magic Hours offered by Disney is a must. So, What are Disney World Extra Magic Hours? If you have ever been to Disney World in the past and stayed at a Hotel that is not associated with Disney, you would look at the posted times for each park and visit at these times. If you are staying at one of the Disney Resorts, each day, one or more of the Disney Parks opens its gates early or stays open late to the Guests at these resorts. Sounds truly Magical doesn't it?
Once you have had this experience of being in the park before all of the other General Crowds are allowed in, you will wonder why you have not done this for every visit. The price to get in the parks is already expensive enough as it is so using the benefits of Magic Hours makes it a much more enjoyable experience for everyone in the family.
How do I get the Extra Magic Hours?
This is the best question to ask because it is not something you can purchase from Disney World a la carte. In order to get these Magical Hours, you have to stay in one of the Disney World Resorts or one of the few Hotel partners that Disney offers this service to. I know it can be more expensive to stay at one of the Disney World Resorts, but if you are going to visit during one of the busier times of the year, trust me, it is well worth the additional money you will spend.
Resorts and Hotels offering Extra Magic Hours
How do they know who has Magic Hours or not?
This is a great question. I wondered this myself at first but after going through the process it is easily determined. When you are a guest at the Disney Resorts, you will either have a be given a Disney Magic Band or a Keycard (if you opt out of having the Magic Band) after you book. This Band (or card) is used for access to your room, charging food or buying souvenirs and also getting you on the rides faster by using the Fastpass Plus system. It is also how Disney determines if you are a Disney Resort guest and if you are, you are allowed on the rides during the Extra Magic Hours. Completely makes sense now, doesn't it. You might see people in the park who are not Resort Guests but they will not be able to do anything but walk around the park. They will be denied access to any of the rides if they try to enter. You really feel like a VIP when you have this power that others do not have.
You might be able to get by without the Extra Magic Hours if you are going to be in Orlando when it is quiet but be sure to spend the additional money to stay at a Disney Resort if you visit in the Summer, around Christmas and New Years or during Spring Break. You will be so happy that you did.
[Pricing Subject to Change]